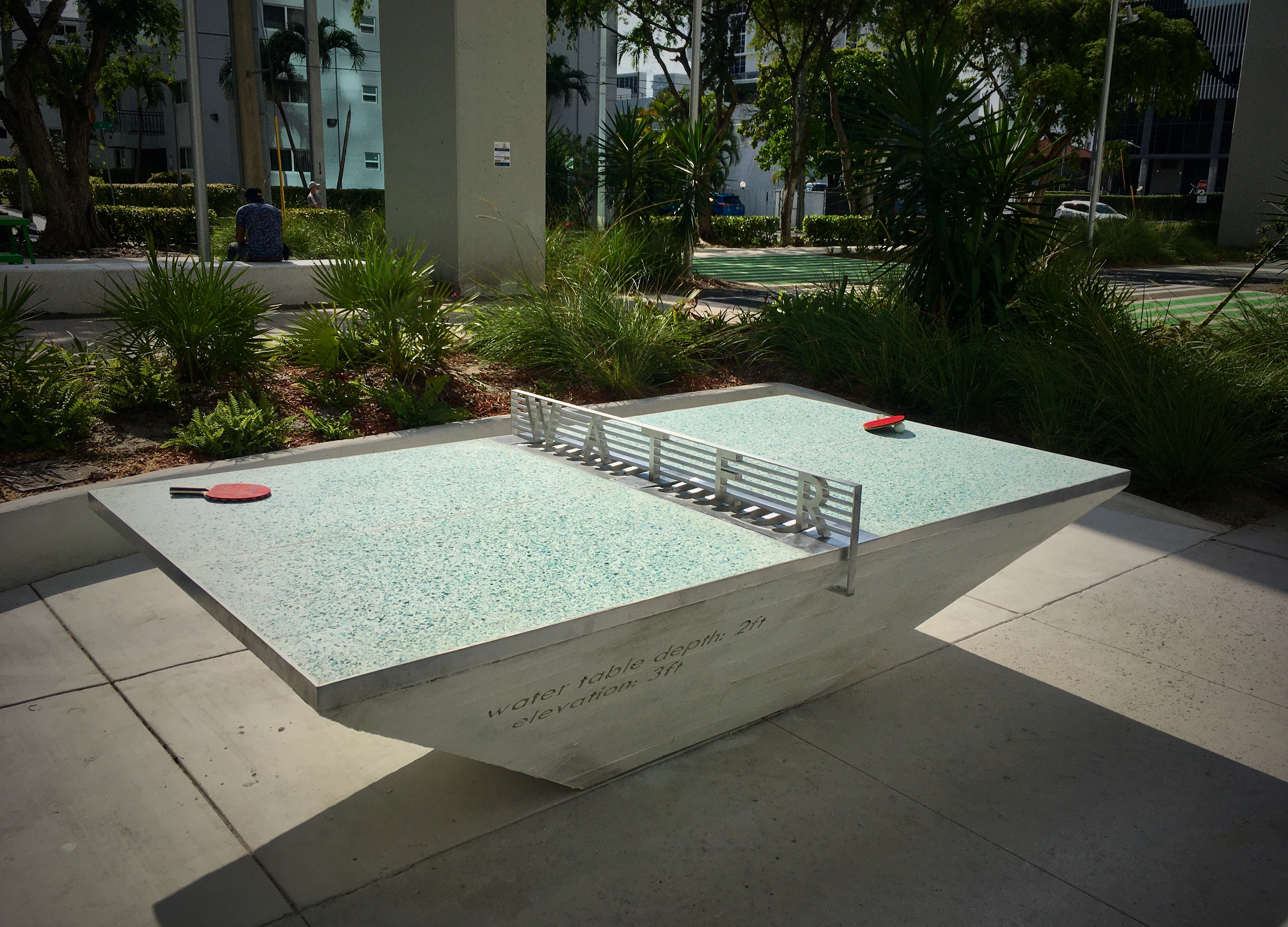 Water/Tables
at The Underline
Adhering to the same dimensions as standard ping pong tables, Water/Tables invite direct engagement with visitors, complimenting The Underline's mission to activate public space as a site of movement, health, interactivity, and art. Visitors are invited to bring their own ping pong balls and paddles and engage in friendly tournaments and casual socializing.
Located at the intersection of SW 1st Avenue and SW 9th Street in Miami's Brickell neighborhood, Water/Tables utilize their position to serve as a playful reminder of the city's geography. Continuing Despain's body of work addressing issues related to climate change, the work highlights the actual water table--the level of ground water beneath the surface that rises through Miami's oolitic limestone as the sea level rises. Driving this point, etched on the side of each table is the approximate measurement of the depth to the actual water table and elevation above sea level at that particular location. In a literal, more humorous sense, Water/Tables transform into fountains activated during times of heavy rainfall—collecting water in the storm drains in the center of the tables and pushing it out through the ball returns on either side. Sea-colored glass terrazzo surfaces quote the Miami architectural vernacular and make direct connection to downtown's proximity to Biscayne Bay, and the delicate ecosystems we live and play in.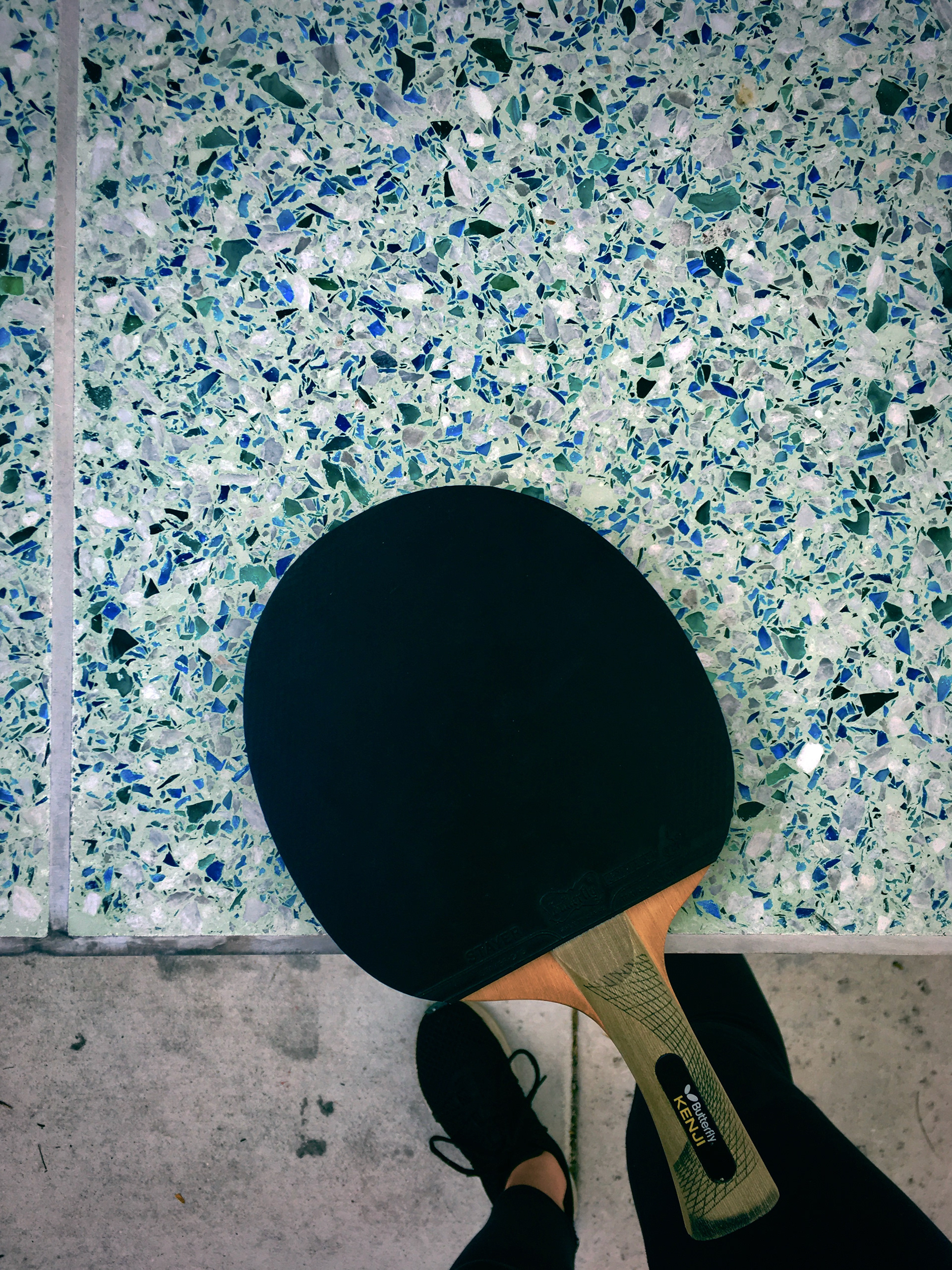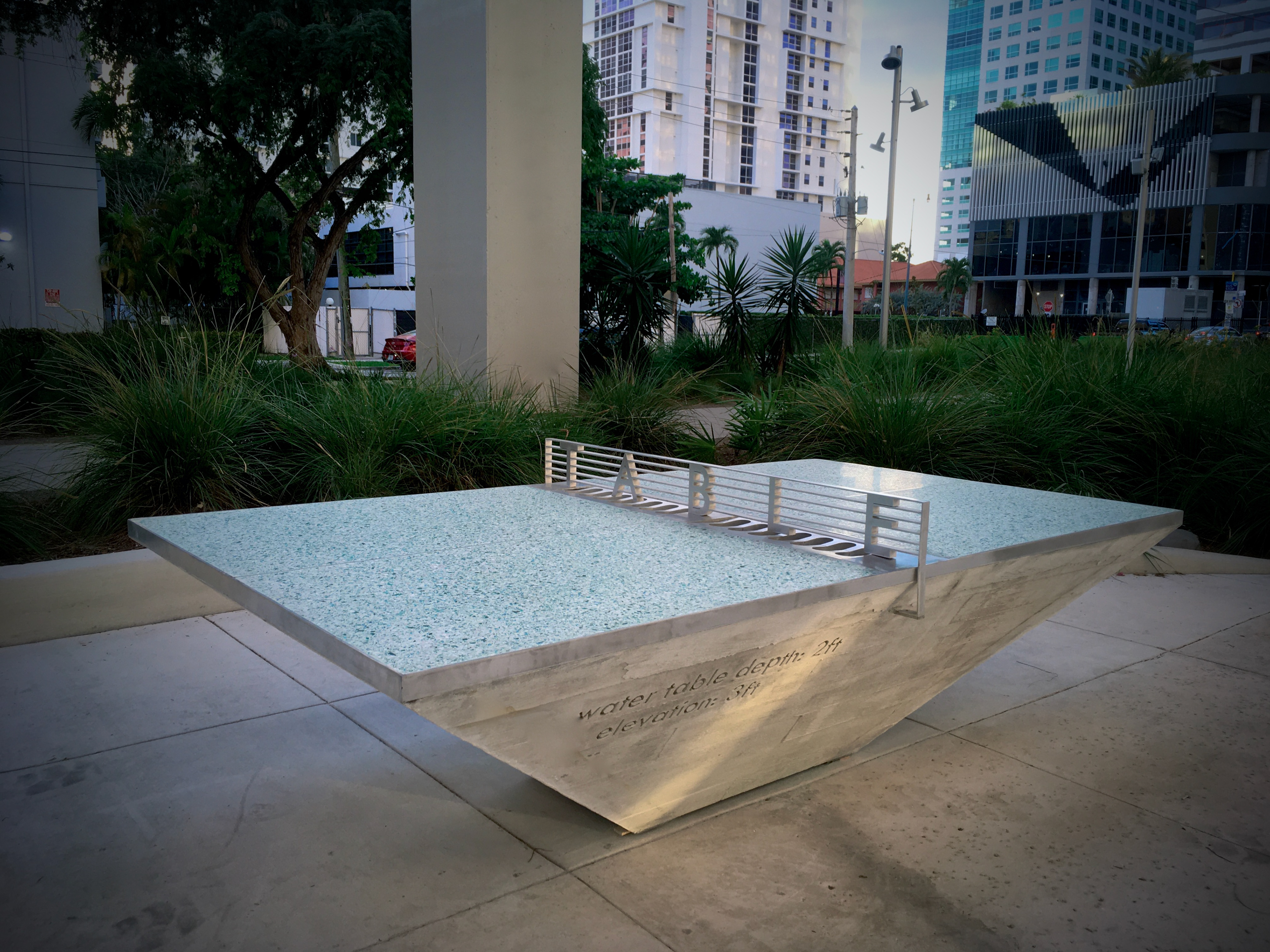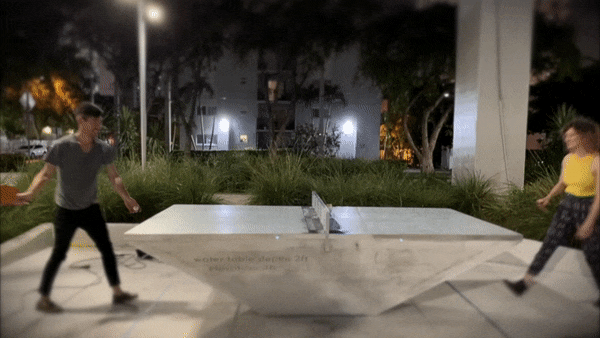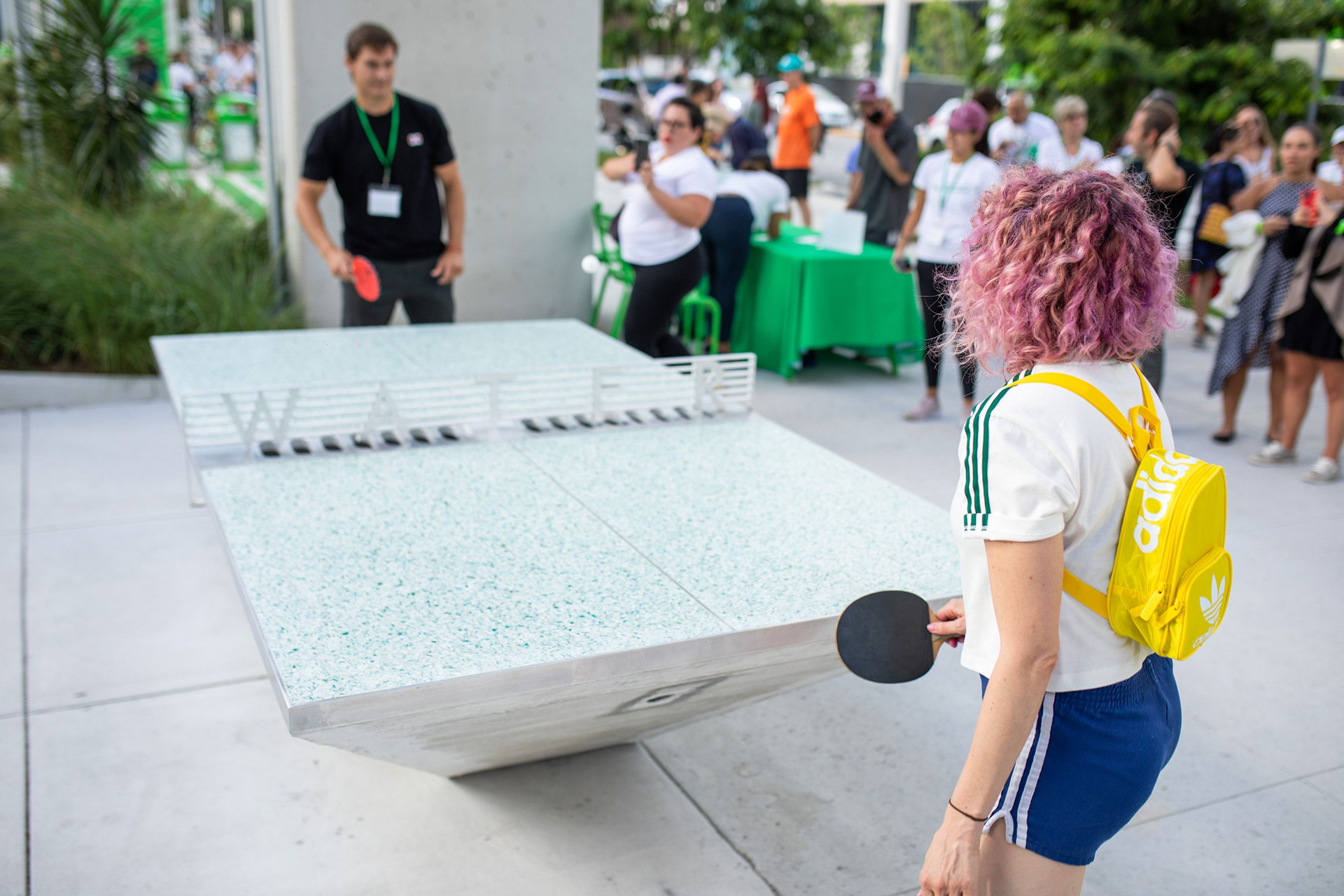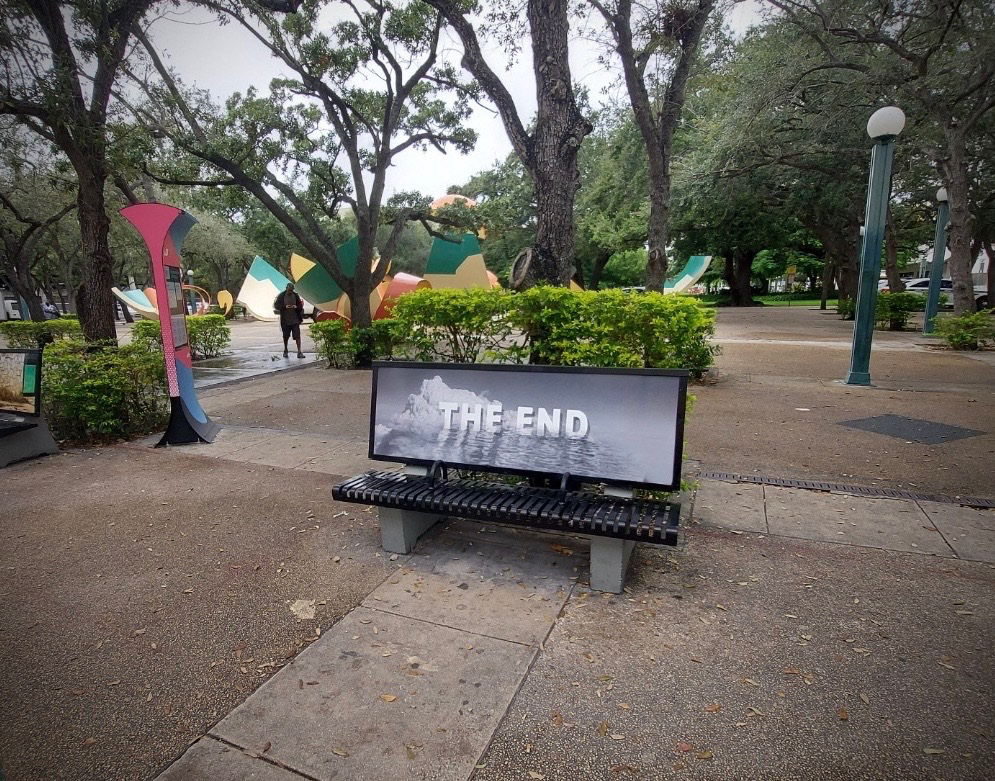 "waiting for the end", 2021
I manufactured this image for a bus bench ad with nostalgic, dreamy ending title cards from the cinema in mind. There's something discordant to me about how the climate crisis we are inducing is bearing down, but we act as passive observers—watching and waiting for an ending when it is actively and catastrophically playing out in real time. It was live at the Stephen P. Clark Government Center in downtown Miami Nov 15-Dec 15 2021.
sea unseen
(digital audio recording, 10:40, 2016)
 is an audio public artwork commissioned by Fringe Projects and Miami-Dade County, and supported by a Wavemaker grant through Locust Projects that was temporarily installed in downtown Miami storm drains. An abstracted audio narrative,
sea unseen
borrows from the language of mid-century radio dramas and film soundtracks, remixing collected sounds and music into a quasi-sci-fi scored work to carry an allegory about sea level rise. A preview was also played in the pool at The Standard, Miami where the public could listen underwater while soaking in a luxury pool right on the bay. 
The project has aired on radio stations from Utah to Miami and was featured in the IKT symposium ARTiculating Sustainability: Resilience in the Climate Crisis? at PAMM in 2019, where I also presented  on my work. A photo edition and a zine,
Sea Unzine
with the original script were produced along with the audio artwork.